A proper vacation tracker should accomplish certain tasks, such as:
Allowing for easy time off booking and approval process

Giving a complete view of absence booking

Making sure everyone gets a personal calendar 

Integrating with your regular work calendar

Having access from anywhere
The biggest advantage of using a proper vacation tracker is the time it saves for you and your team members—by automating your leave management system.
Because keeping details of your team's time off schedule in an easy-to-navigate software prevents you from updating messy spreadsheets. And it ensures everybody in the team has current information on who's on leave and who's not to plan better and work smarter.
For example, when your employee requests vacation time, he needs his leave summary from you. In addition to performing your regular job duties, you have to also check your spreadsheet absence records and return to them. However, a proper leave tracker gives your employees direct access to all their leave information. 
In this post, we'll list the 5 best vacation trackers to help you manage staff absences more effectively, starting with our own tool, Timetastic.
5 Best vacation trackers (2022): Introduction, reviews & pricing
1. Timetastic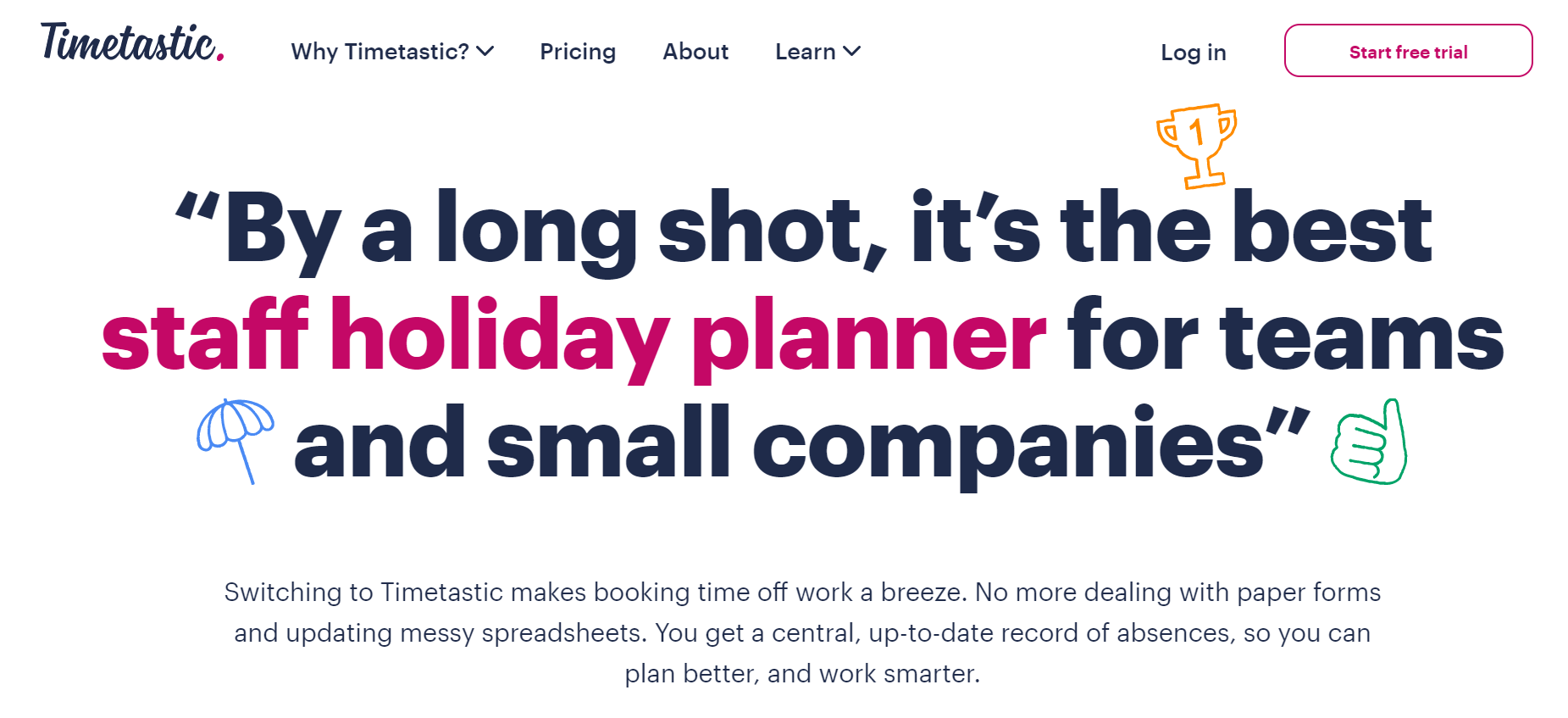 Capterra rating: 4.7/5
G2 rating: 4.6/5
Pricing: Starts at $1.30 per user per month
In discussions with our customers, most said managing time off with spreadsheets is easy when there are a few people on the team. But as the team size increases, things get complicated. 
We understand your frustration, so we built Timetastic, an online leave management system. It gives your team the ability to self manage their leave and gives you a complete view of your team's absences. This helps you to plan ahead, cover your busy periods and avoid any leave clashes. 
Unlike payroll softwares, it is more than just a streamlined way to book time off-it's a better way of getting to grips with your staff's absence.
When your company switches to Timetastic, leave management becomes more transparent, everyone plans better, works better, and you'll see a happier and more productive workforce.
Features that make Timetastic the best vacation tracker are:
In addition to other important work responsibilities, it's frustrating when an employee follows up repeatedly on a leave inquiry. Imagine how convenient it would be for your staff to get all their leave details without bothering you.
Timetastic provides each employee with an individual calendar to check their leave balance and plan for the year.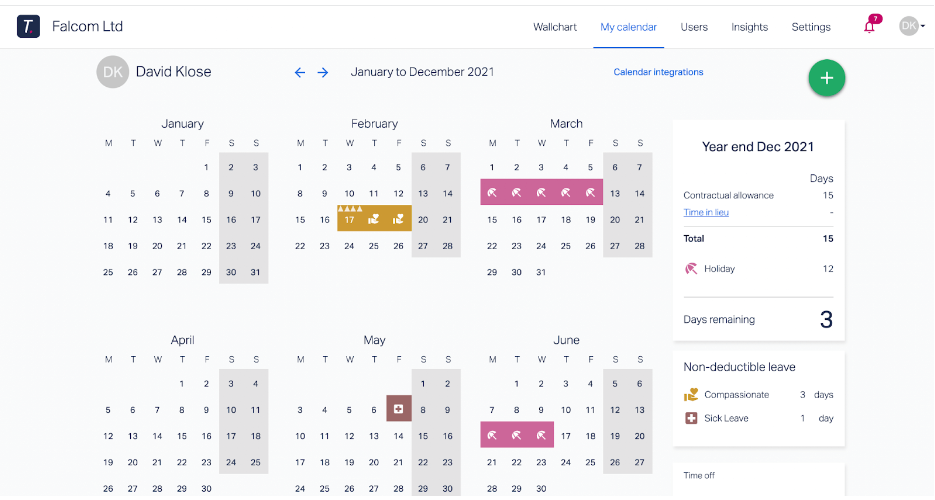 Such a view provides transparency in leave management, and it improves employee satisfaction. Such automation also helps you spend less time monitoring and responding to leave requests.
Let's be honest, how often has a team member been absent from work because they are on leave, and you (or the leave approving manager) either forgot or were unaware?
Timetastic's live wall chart solves such problems. When you log into the portal, an interactive wall chart appears. There are two tabs on the extreme right "Wallchart" and "My Calendar."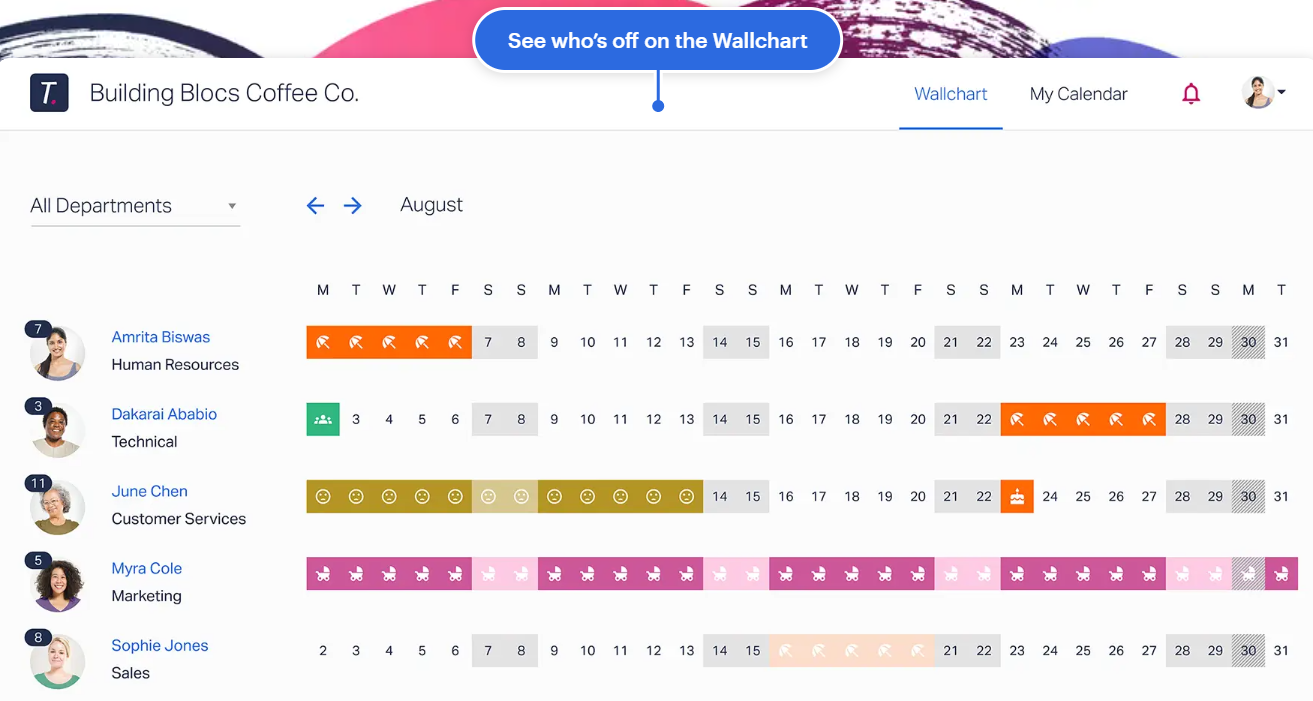 When you click on the "Wallchart" tab, it give you a complete view of who's out for the day (or month). This way, there are no last-minute surprises about absences. 
Even your employee can see from their Timetastic dashboard who in their department is on leave (without knowing their reason for absence).
But not all people love logging into their dashboards every day. So you can get notified through email or app to receive a summary of absences for the week ahead or just a summary of today.
Get leave notifications through email and the app
In traditional leave application (leave forms, email, SMS, Slack) methods, delay in acknowledging the leave application, approval, or rejection (without reasons) are very common.
However, with our cloud-based absence management application, Timetastic, whenever your employees request their time off (by choosing their choice of leave reason that aligns with the company policy), you'll get email and app notifications. 
This is how it looks: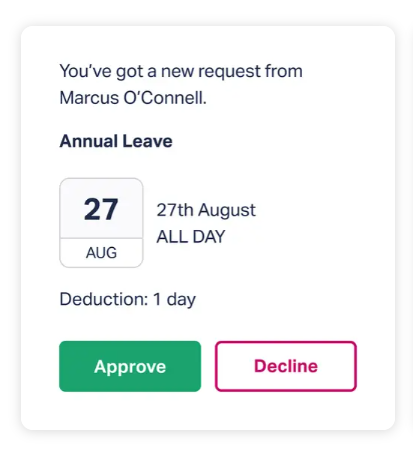 You can check your staff's leave pattern from the portal and make well-informed decisions on the approval/rejection of leaves. Such notifications are helpful since employees can grow frustrated if their leave requests are delayed.   
Once approved (or rejected), your employee is notified too.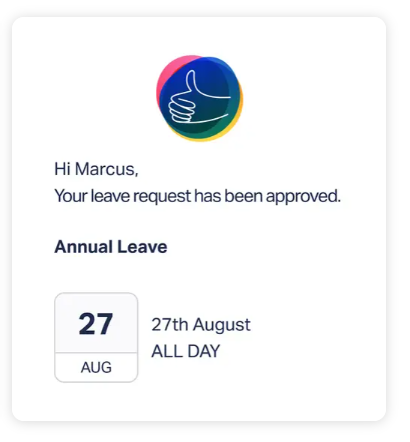 Connect Timetastic to your regular calendar
And all your staff's absence booking will automatically sync in at lightning speed.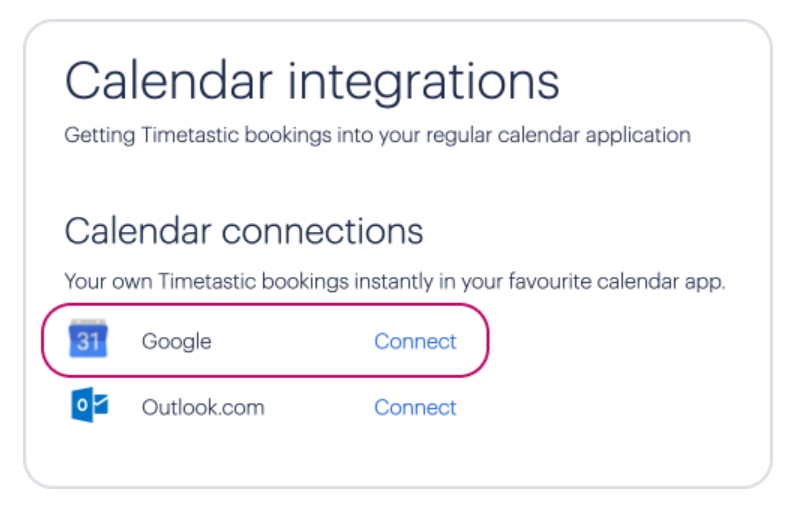 So your calendar gets instantly updated every time a vacation request is approved and you can see who booked time off, is at work, and is on vacation in real-time.
The same happens when your employee links their calendar to their Timetastic account; their PTO is automatically added to their calendar. 
With Timetastic, you can export all your data into Excel-and store, analyze, filter, and pivot as much as you want.
You can download four types of reports:
Annual summary:

This gives you a summary of all the bookings, deductions, allowances, and carry-forward values. 

Full backup:

Ideal for backup, big data analysis, or looking across years.  

Audit trail:

This is a report of all the changes made to the account, like adding and removing users, changing admin users, updating work schedules, and changing department settings.

Recent transactions:

In real-time, you can view a list of recent bookings and export the 30 days' data.
How to set up Timetastic?
The process is straightforward:
Visit our website and sign up for a

free trial

(no credit card required)

Add your employees to Timetastic. Add them individually or in bulk (if you have got a dozen or more in your team)

Set your employee's work schedule. Setting each user's work hours accurately ensures accurate annual allowance deductions.

Mark your team's public holidays. These holidays don't affect the annual allowance. 

Create your department that aligns with your company structure, and assign a boss to approve their time offs. 

Customize leave types. Timetastic has a set of common types of time off, but still, you can create as many leave types as you need.
In case you have any queries or issues contact our team for excellent customer support. 
We know it seems biased to vote Timetastic the #1 vacation tracker, but we're not the only ones to think so. With a 92% recommendation rate and 9.3 ease-of-use rating, we have relevant reviews to back our claims.
At the time of writing Timetastic has 564 reviews on Capterra. We have pulled some relevant reviews from their database.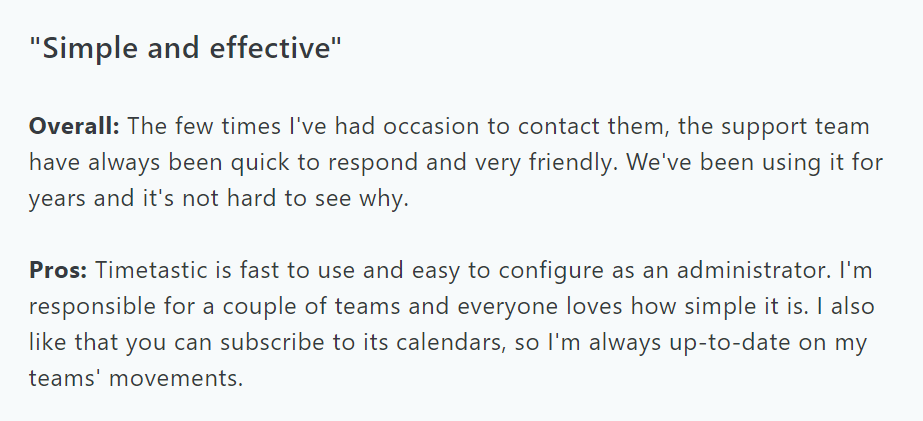 You can check the rest of the reviews here on Capterra and G2. Click here to request a demo or register for a free trial.
2. Vactiontracker.io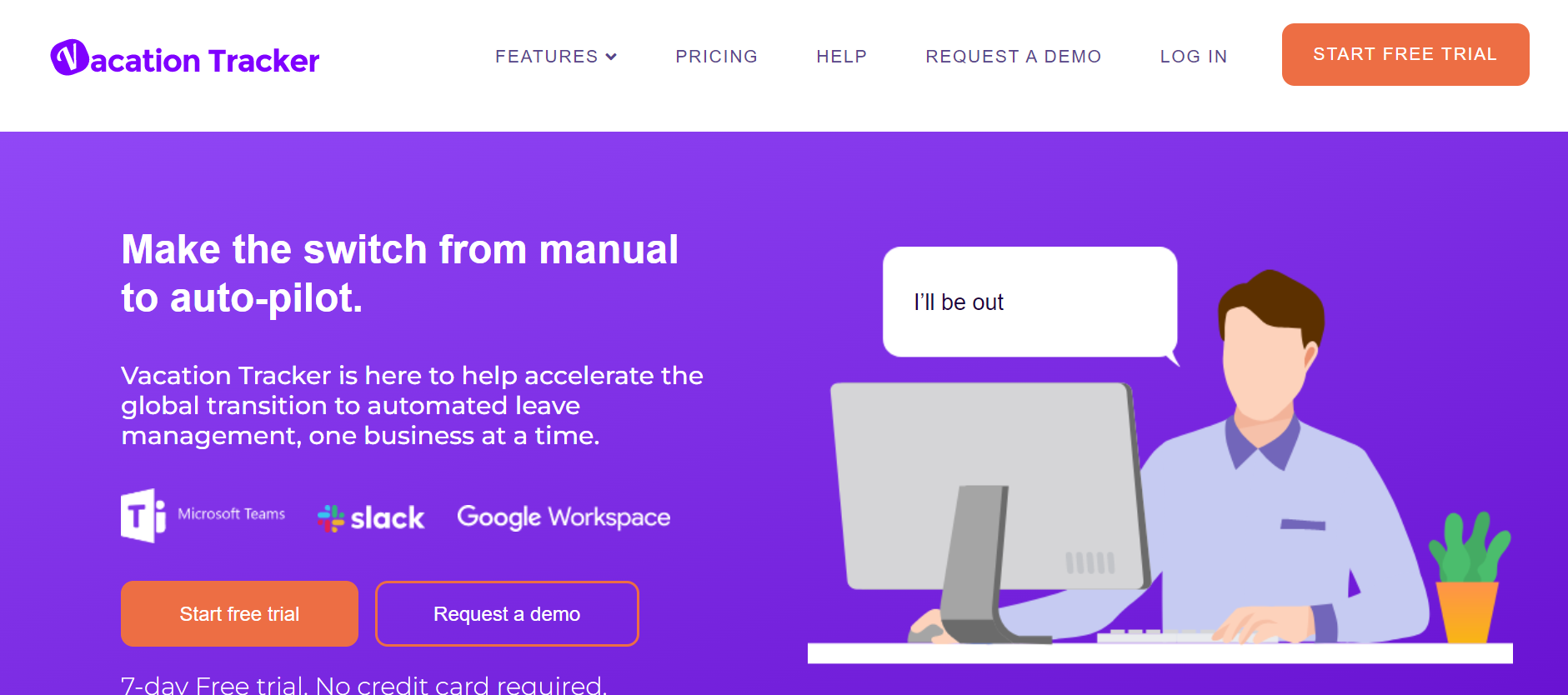 Capterra rating: 4.7/5
G2 rating: 4.1/5
Pricing: Starts at $25 for up to 25 users ($1 / additional user/mo)
Vacationtracker.io is a fully-customizable, remote leave tracking solution. At the time of writing it has 30 reviews on Capterra. We have pulled some of them from their database.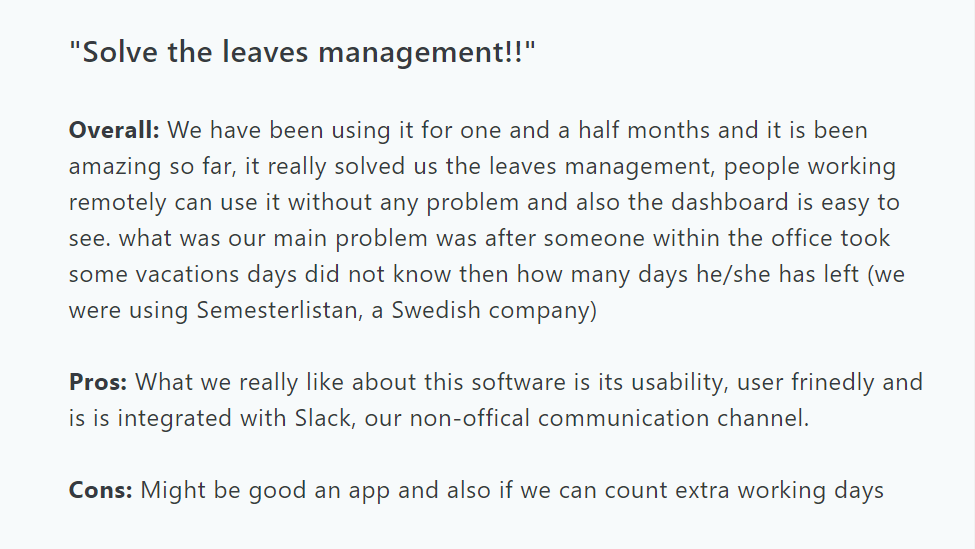 Click here to see full review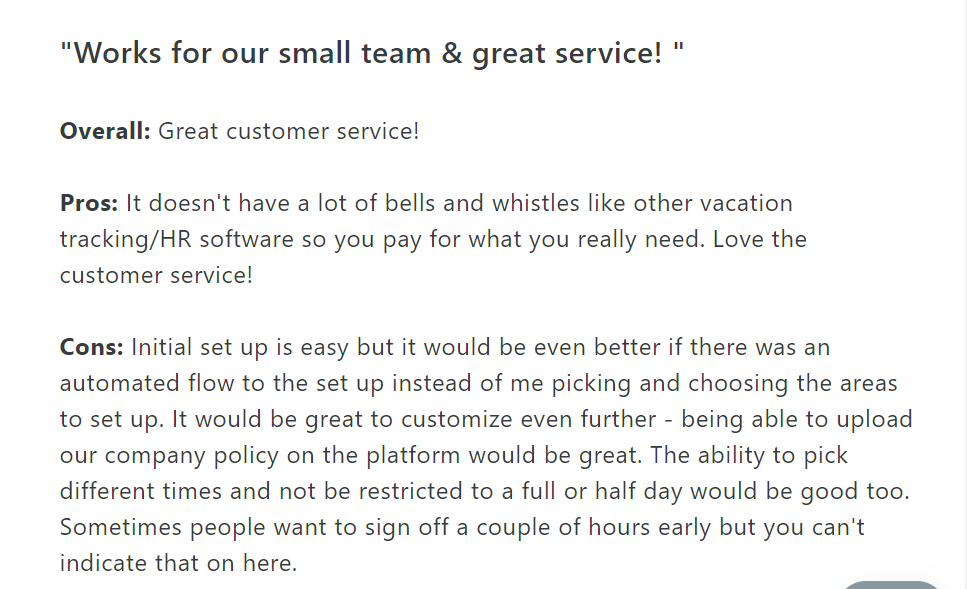 Click here to see full review
You can check the rest of the reviews here on Capterra and G2. To learn more, you can check out their website.
Vacationtracker.io offers a 7-day trial with all features. In contrast, Timetastic has a 30-day trial to explore all its features described above.
3. Day-off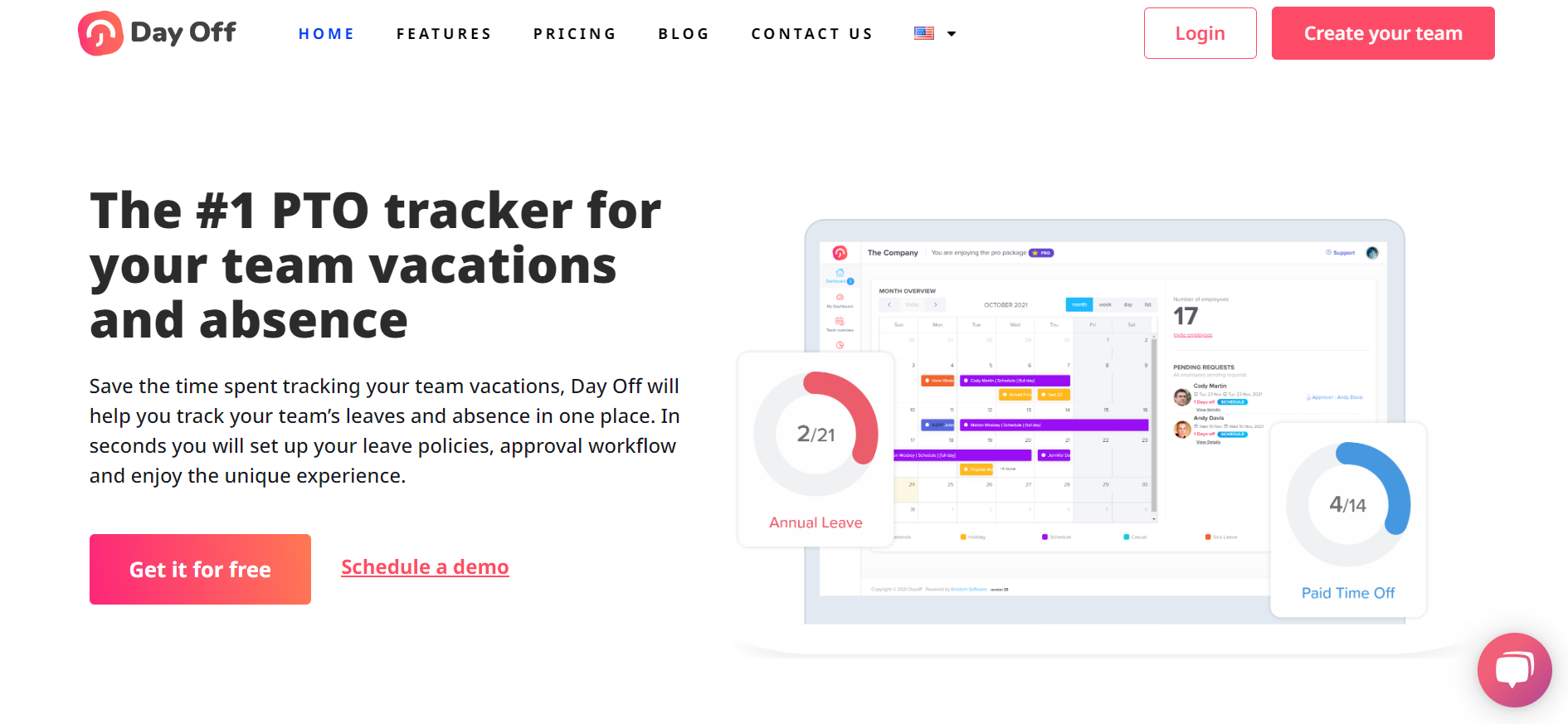 Capterra rating: 5/5
Pricing: Free to use. Premium price starts at $1 per user/month.
Day-off is a free (basic plan with limited features) leave management app. At the time of writing it has 15 reviews on Capterra. We have pulled some reviews from their database.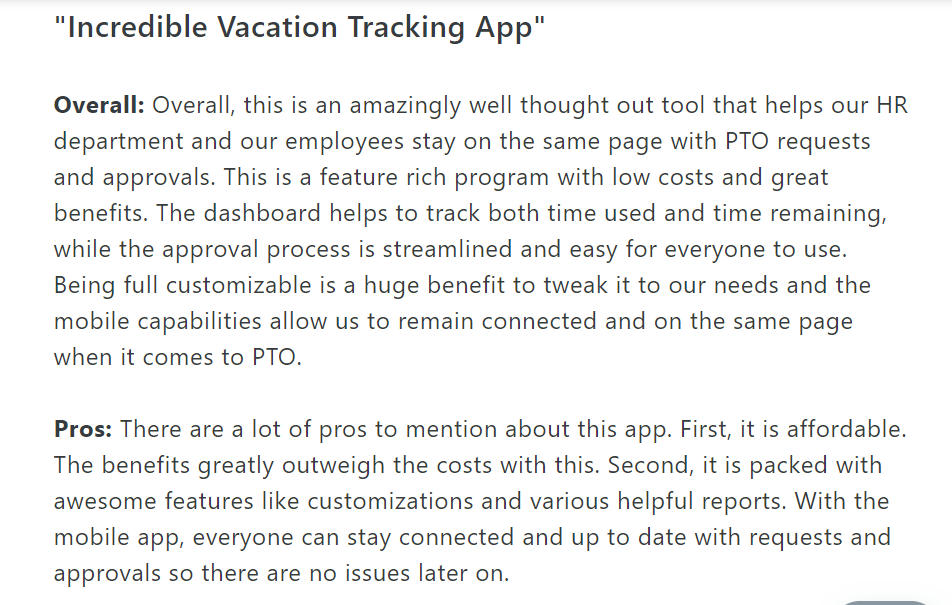 Click here to see full review
You can check the rest of the reviews here on Capterra. To learn more, you can check out their website.
In contrast to Timetastic, Day-off lacks calendar management, employee scheduling, and overtime calculation (burnout).
4. Monday.com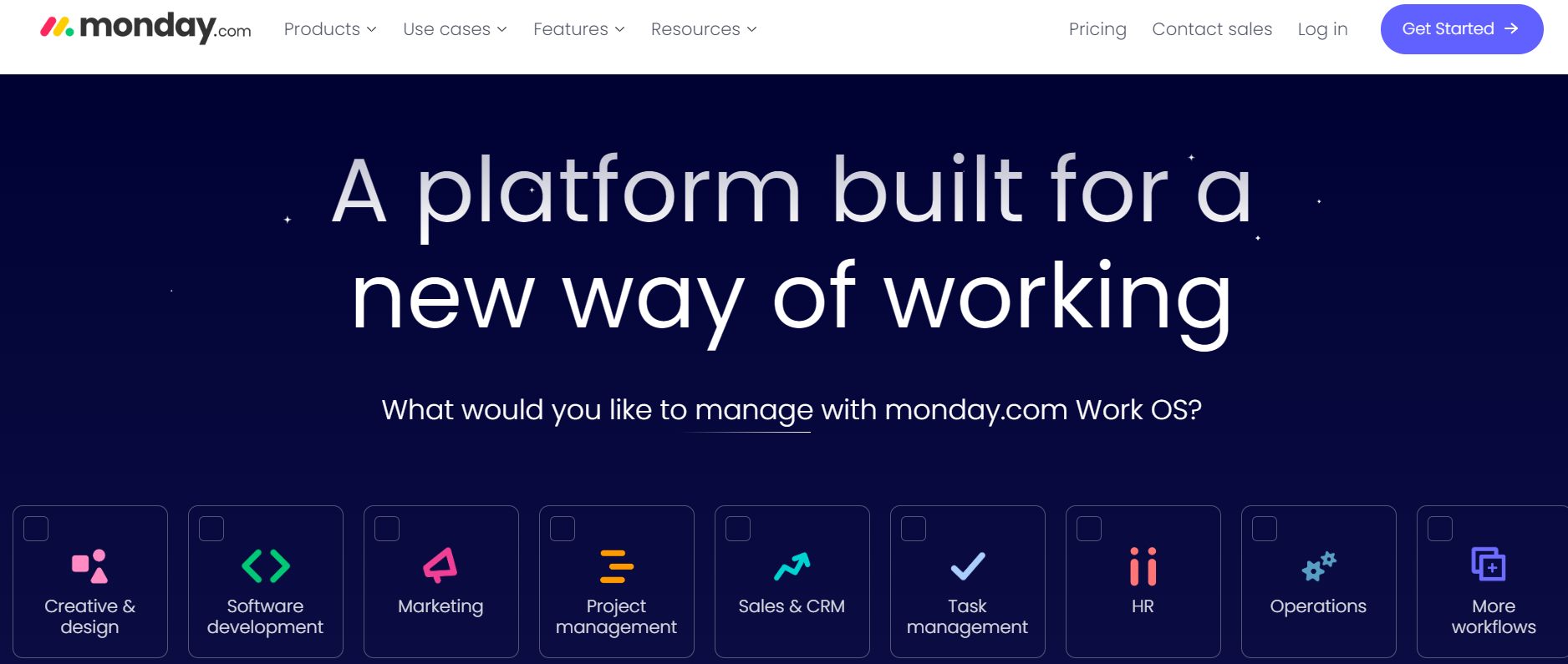 Capterra rating: 4.6/5
G2 rating: 4.7/5
Pricing: Starts at $8 per user per month
Monday.com is a work management and productivity app. It helps you to manage the entire employee lifecycle in one place, including onboarding, managing vacation days, planning team-building events and more.
At the time of writing it has 3132 reviews on Capterra. We have pulled some reviews from their database.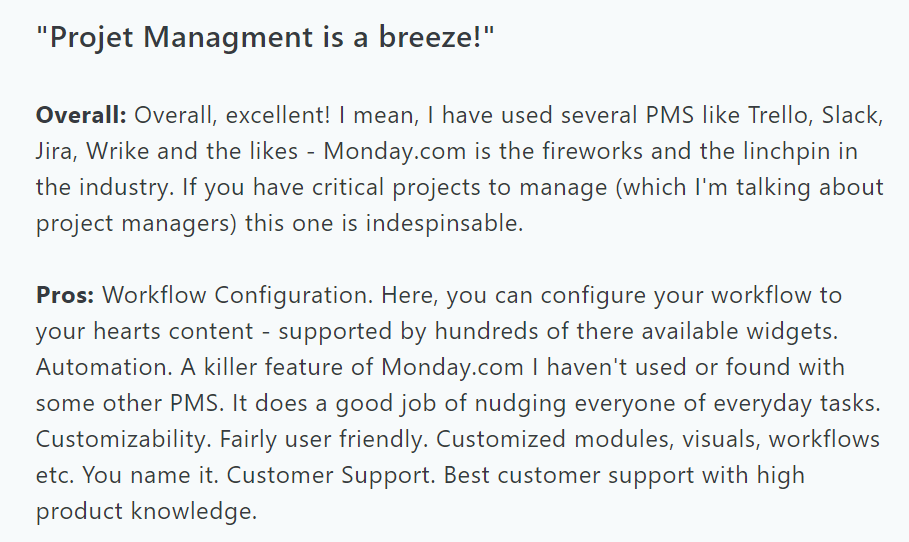 You can check the rest of the reviews here on Capterra and G2. To learn more, you can check out their website.
Monday.com works for all types of businesses compared to Timetastic, which works best for small and medium-sized businesses.
5. Clockify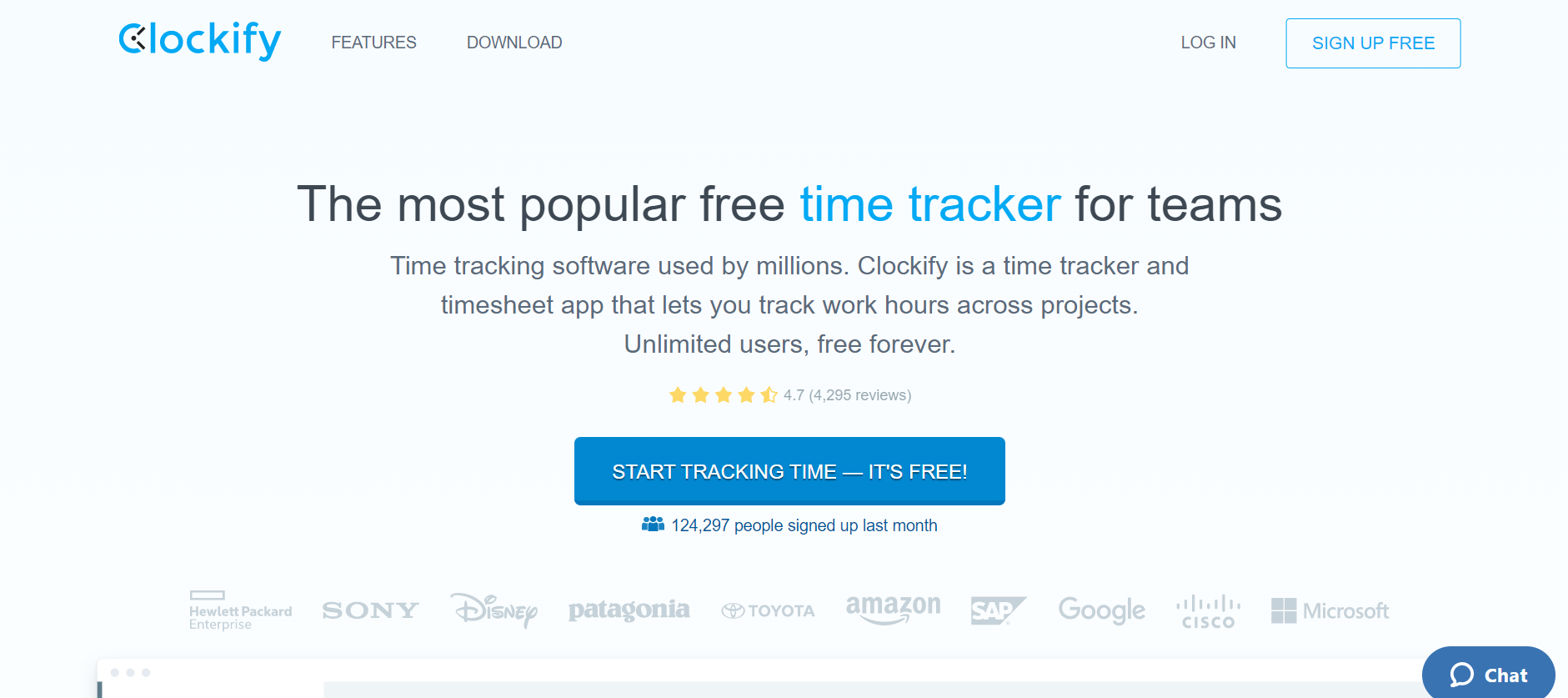 Capterra rating: 4.7/5
G2 rating: 4.5/5
Pricing: For up to 25 users ($1 / additional user/mo)
Clockify is a time-tracking software that helps you track your work hours across projects. It also has an integrated time off tracker.  
At the time of writing it has 4333 reviews on Capterra. We have pulled some reviews from their database.
Click here to see full review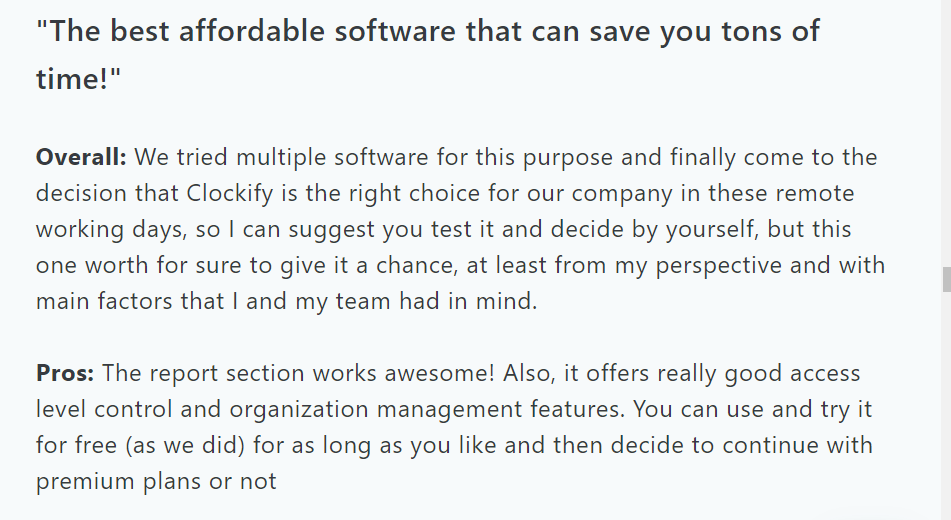 You can check the rest of the reviews here on Capterra and G2. To learn more, you can check out their website.
It works best for freelancers, teams and companies, streamlines workflow, improves productivity, and tracks attendance and billable hours. 
In contrast, our tool Timetastic is ideal for small and medium-sized enterprises. And it does more than just requesting time off (addresses issues like burnout, easy leave approval procedure, avoiding leave clashes, and detecting leave-taking patterns).
Best vacation tracker software FAQs
What is a vacation tracking system?
Vacation tracking system is a tool companies use to monitor time off of their employees. They use an Excel spreadsheet, a payroll system, or a proper online vacation tracker such as Timetastic. These systems help businesses track who's on leave and why.
Why is PTO tracking important?
Tracking PTO helps managers make better scheduling decisions and reduce conflicts between project demands and employee time off requests. 
Most employers track PTOs using outdated systems like spreadsheets, post-it notes, and complicated email threads. Untracked PTO costs your company money, so monitoring employee absenteeism requires the same attention to detail as managing the company's finances.
How to keep track of team vacation?
There are five ways to keep track of team vacation: 
Paper: Some employers prefer to track vacation with the help of reminders on their desk or wall calendar, or a spiral notebook, to name a few.

Email: Many employers track vacations through email threads since they are accessible from anywhere. 

Spreadsheets: With spreadsheets, you can make a PTO calendar that stores information on multiple employees. It's easy to use and allows you to store and manage all your data in one place. 
This makes managing holiday requests much more efficient than paper and email. If spreadsheets are your first choice for vacation tracking, download this and use it for your leave tracking excel template. 
HR software: This helps organizations to manage administrative tasks including leave management, payroll management, employee engagement, cost management, and more on a single platform.

Absence management software: It helps your employees book their own time off, lets you track them, check leave balances, integrate the portal with your calendar and more.  
Unlike payroll softwares and absence management softwares, paper, email, and spreadsheets are free. However, with more staff, they become complicated to manage, time-consuming, and prone to errors and inconsistencies, because your employees can't self-manage their leaves with paper, email, and spreadsheets.
Choosing the right vacation tracker for your business
Your reasons for considering a proper vacation tracker will vary—based on the number of employees you have and your required level of sophistication. However, what's likely to remain constant are the five core features of any quality vacation tracking tool:
Lets your team self-manage their leaves

An easy leave approval process

Daily/weekly notification on absenteeism

Integrates with Google Calendar, Outlook Calendar, G Suite, Apple Calendar, and Slack.

Lets you track your team's time off and export data for analysis
We've built Timetastic after experiencing how complex it is to maintain time off details in spreadsheets. We're proud to say 175,000+ people use Timetastic. 
To know more about it, click here and schedule a demo or sign up for a free trial. 
Disclaimer: This post was written as a sample for a client.