Employers who turn to a proper vacation tracker often do so because they struggle with keeping details of their team's time off schedule with spreadsheets. 
Although these spreadsheets are helpful when your company has a small number of employees, they become more complicated as your business grows. Because the larger your team, the more time and effort you'll have to invest in manually updating leave allowances and approving days off.
Moreover, monitoring planned time off, overlapping leaves, and tracking different types of leave (sick leave, maternity or paternity leave, and holiday) requested can be challenging with an excel sheet. 
But with a proper vacation tracker like Timetastic, managers can quickly track who is off and its reason. This saves time for everyone involved and increases productivity.
In this post, we take you through the disadvantages of using a spreadsheet and how you can better handle your team with Timetastic.
Note: We have helped over 8,000 businesses that depended heavily on spreadsheets and helped them to manage their team calendars with Timetastic. You can click here to book a 20-minute demo on zoom or sign up for a one-month free trial.
5 Reasons Why Spreadsheets Are Not Helpful for Vacation Tracking
You probably like spreadsheets because they are free and one of the simplest ways to track time off. But, in an age of automation and when compared to online leave management solutions available in the market, spreadsheets appear outdated and ineffective for vacation tracking.
Here Are 5 Reasons Why So:
You have to manually update leaves, which has a fair amount of disadvantages.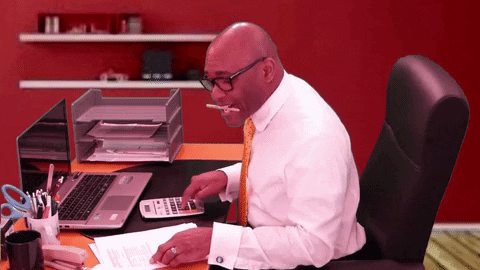 Because you are the only one who handles entering the leave data, which increases the workload on a single person, there are chances you make a mistake and enter some wrong data. Manual processes are tedious, time-consuming, and challenging to execute.
   2. With spreadsheets, it's challenging to get a detailed picture of who's in and out and if there is any leave clash.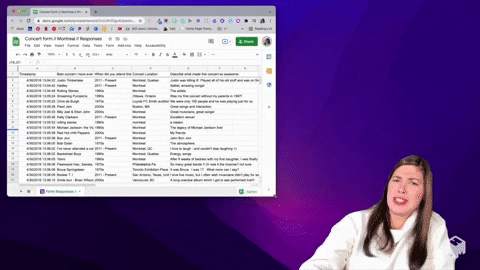 Because as your business grows in size, the employee base grows, and so does the payroll data. Suddenly these large data sets look pretty complex. 
But if your company is new (with a small team), and spreadsheets are your first choice for vacation tracking, you can download and use this leave tracking excel template.
Before signing for Timetastic, Lauren (our client), an account director at the digital agency Abstrakt, claimed that holiday requests were made by email or Slack and entered into a shared calendar. 
This worked for them when they were a small team, but as the team increased and more work entered the studio, it became more challenging to handle.
So we recommend you to check out Timetastic as your business grows big (more about it in the next section).
     3. Excel spreadsheets are not immediately updated in response to your employee's leave request. Because each request for time off needs to be manually entered in the employee absence spreadsheet, and these spreadsheets are typically updated at the end of the day.
This means that even if your employee has already requested their time off (through emails, Slack, or paper applications), it is updated in a spreadsheet at a later time.
As a result, there is a higher likelihood that data would be input improperly or decisions (on payroll) being made on out-of-date information.
   4. Spreadsheets cannot sync with your calendar, so it's never up to date with your employee's absence bookings. Though there are third-party softwares with which you can integrate your spreadsheet with your calendar, it's pretty tough and time-consuming.
   5. There is no privacy in spreadsheets. The data housed within the spreadsheets are often shared among other teams and departments.
Yes, you can password protect it, but staff members still have access to certain information. This poses a threat because sensitive information can be misplaced, lost, or replicated.
What if I tell you that our efficient leave management system, Timetastic, makes vacation tracking super easy? Let's show you how:
#1. Approve Time-Off With a Single Click
Updating leaves does not have to be a headache anymore. Because, unlike a spreadsheet, your employee can log into their Timetastic account and book their time off holidays, sickness, maternity, sabbaticals, or any custom leave types that align with your company policy with a few clicks.  
So there are no more leave applications through emails, messengers, or paper.
Here's how they can do it:
Your employees need to click the blue button on the wall chart and fill out the form with the type of leave, the reason, and the date of their choice.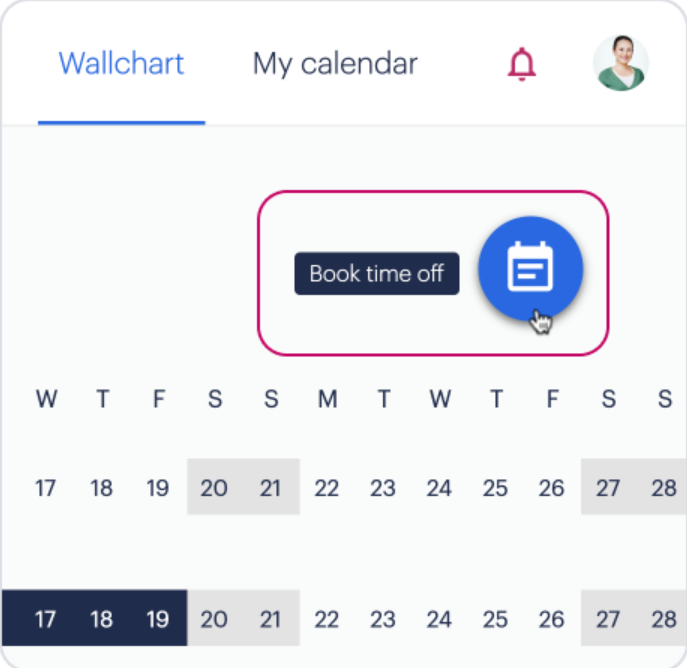 It takes only 4 simple steps to submit a leave:
Select preferable dates on the timeline to open the leave request form

Your employee needs to make sure you have enough PTO on your balance for the chosen dates

They need to state which type of leave they want to take

Add a comment for their manager if they want to clarify some points
When your employee applies for time off, you get an app and email notification. You (or the leave approving manager) can view your wall chart to see clashes before approving their leave requests. 
#2. Get a Full View of Absence Booking
When you log into Timetastic, the first thing you see is an interactive wall chart which is an online representation of your employee's holidays.
Here's what it looks like:

So at a glance, you can see who's in and out of the office (and also why). With this kind of visibility, you can avoid clashes with people your employees work with. 
Your employee's wall calendar is an annual representation of their holidays. And there's a summary on the right-hand side which outlines how much annual leave they have taken and what's remaining. This clear view helps them to plan their time off better.
#3. Get Real-Time Data
Timetastic offers real-time data on who's requested time off, whether it is approved/disapproved, and how many leaves are still available. This helps you to work better and value your team – you'll see a happier and more productive workforce.
So as soon as your employee applies for leave, and it's approved/disapproved it gets updated in Timetastic immediately. So your employees always have an updated leave summary. 
The opportunity to take time off without tedious approval procedures (made possible by this real-time data) boosts employee morale.
#4. Easily Connect Timetastic With your Calendar
And your employees' absence bookings will automatically feed in, and you can stay up to date. You'll receive an email at the start of every week with a summary of who's off for that week.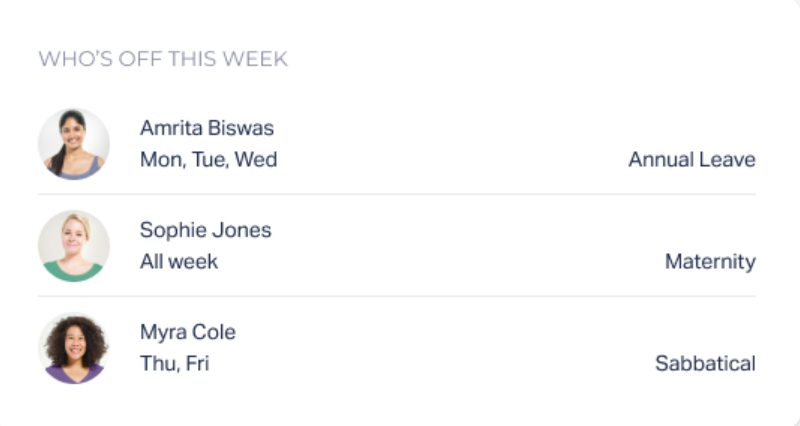 So, you don't have to wonder why someone is not at work.
And if you love using Slack, you can integrate it into your Timetastic. You get notified when someone takes a leave. All you have to do is approve or disapprove with a single click. 
This is how it looks: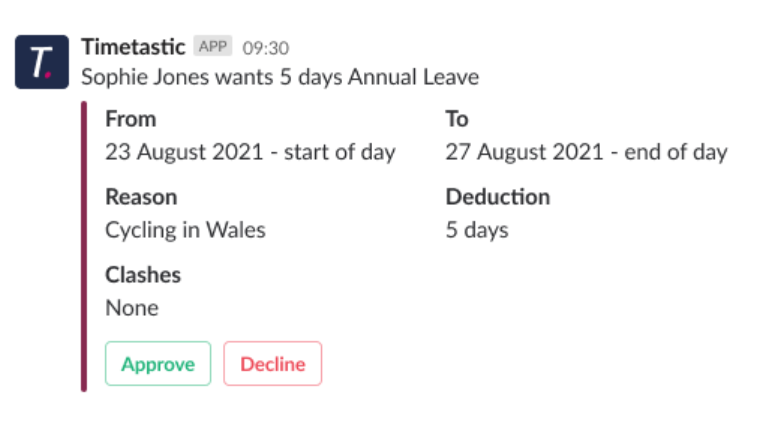 And you also get daily updates on absenteeism, and you need not check your calendar or ask around the office about who's in or who's off. 
#5. Protect your Employee's Privacy
As an admin, you have full access and can see everything (who's on leave, why, and much more) in your wall chart. Or you can also nominate the department head as the leave approver. In that case, they can see who's on leave and for how many days.
When other employees log in to their dashboard, they can see who's on leave and for how many days but can't see the reason for their leave. 
They can't change other employees' annual leave entitlement, can't cancel any bookings, can't see other employees' annual allowances, or summarize calendar information.
Some stats that you'll love about Timetastic:
175000+ people use Timetastic to book their time off. 

It has secured a 4.7 rating in Capterra.

92% of people have recommended Timetastic on reviews.io.

Let Timetastic Track Your Employee's Time Off (Sign Up For a Free Trial)
With Timetastic you never have to monitor planned time off, overlapping leaves, and tracking different types of leave, and manually updating leave allowances.
All you have to do is open your Timetastic account, approve or deny the time off requests with a single click, and get a calendar view of who is on leave and for what reasons — hassle-free right? 
To Get started Get a Free Trial and see how convenient it is to track your employees time off on our platform. 
Disclaimer: This post was written as a sample for a client.